Scotland is often considered the birthplace of golf. With a rich history and plenty of beautiful courses, a golf trip to Scotland is the experience of a lifetime. On your golfing trip you can visit some of the most famous greens in Scotland. You can also experience some of the "hidden links", the hidden treasures of golf. On your perfect golf trip you can familiarize yourself with historic courses like the Old Course at St. Andrews, as well as the other fine courses at St. Andrews and the surrounding area. From there you can venture out to some of the other shrines of golf as well as some off the beaten path gems. Of course, the nineteenth hole is just as important. With our  luxury golfing tour packages Hidden Links will help you discover where to visit on your golf tour of Scotland.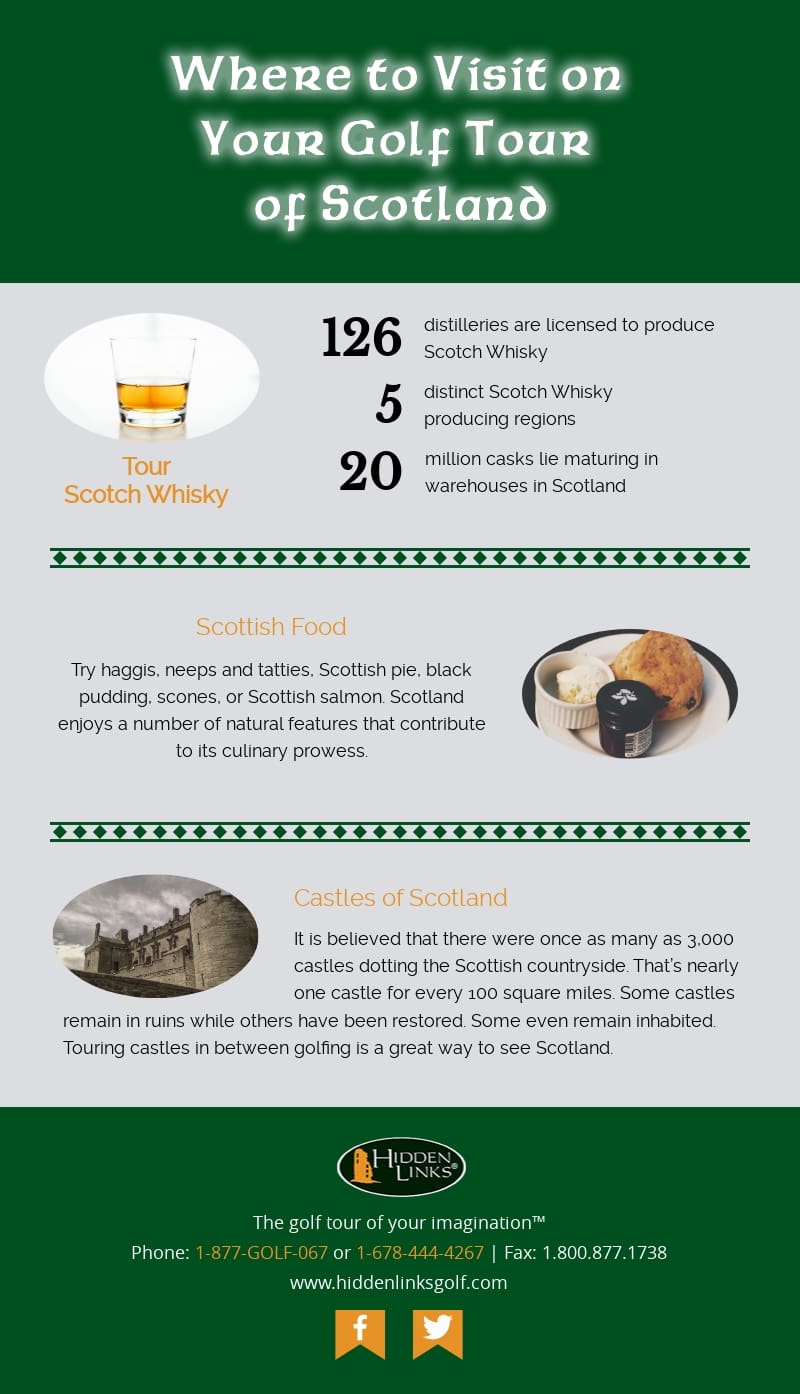 The Importance of the Nineteenth Hole
A golfing tour is about exploration and discovery. With all of your travel needs taken care of, you are free to discover some of the greatest golfing the world has to offer. On your Scottish golf tour you can visit some of the oldest and most famous courses in the world. These links, nestled among Scotland's stunning landscape and rich with history, are simply without compare.
But just as important to the golfing experience as the links themselves is the proverbial nineteenth hole. You can relax by a welcoming fire with a fine pint of local Scottish beer, enjoying the atmosphere of Scotland. There is also so much of Scotland to discover between your trips to the green. Enjoy the rich history of Scotland and Scottish culture along with the finest in golfing experiences.
Touring Scotch Whisky
Scotland has been perfecting the art of distilling whisky for centuries. With a climate perfect for growing barley and access to fresh spring water, Scottish distilleries produce some of the finest whiskies in the world. In fact, Scotland has the highest concentration of distilleries anywhere on earth, making it a whisky connoisseur's perfect touring destination. On a tour of Scottish whisky distilleries you can learn some of the secrets behind this ancient craft.
The wonderful variety of Scotch whiskies is due to the unique location and methods of each distillery. The local source of water, the shape of still, the wood used in the aging casks, and many more factors affect the distinct flavors. Each distillery is different and produces a different flavor than every other.
There are five main whisky producing regions in Scotland. These are Islay, Speyside, Highland, Lowland and Campbeltown. No two regions are the same, nor are any two distilleries. A visit to each region and each distillery is a glimpse into the environment and the people that make Scotch whisky so unique. As you enjoy a taste of the whisky at the end of each distillery tour, you will be tasting the very essence of Scottish life and culture.
The Whisky Coast brings together 16 distilleries as well as fine eateries and, of course, historic and dramatic golf courses. With a tradition so closely linked to Scotland, whisky makes the perfect accompaniment to your perfect golfing tour of Scotland. For more information about golfing the Whisky Trail, click here.
The Food of Scotland
As you relax after a game of golf in the lovely Scottish countryside, make sure to enjoy some of the country's unique culinary offerings. Scotland enjoys a number of natural features that contribute to its culinary prowess. Its access to the cold North Atlantic waters provide a bounty of Shetland salmon and shellfish. It's rolling hills and lush valleys make it a perfect pasture for Aberdeen Angus beef.
Perhaps Scotland's most famous dish is its national dish, haggis. The origin of the word haggis remains a mystery, but it is believed to be related to the Scots word hag, which means to hew or chop. This would make sense for a sausage-like food made of many chopped ingredients deliciously blended into a final culinary treat.
Haggis is actually a type of savoury pudding, made of a mixture of meat, oatmeal, onions, salt, and spices. Traditionally haggis was cooked in a sheep's stomach, a form of preservation. Today, most haggis is cooked in synthetic sausage casing. The oatmeal gives haggis a soft, crumbly texture not unlike stuffing. The meat and spices combined with the oatmeal create an earthy, rustic flavour with a kick of pepper. Be sure to try some on your personalized Scottish golfing tour.
Visiting The Castles of Scotland
Scotland is famous not just for its golf, but for the ancient and majestic castles that dot its landscape. In some cases, the two come together. This is the case at the historic Cruden Bay Golf Club. There you can play an exquisite 18 hole course plus another 9 hole course, all in the shadow of the Slains Castle which sits high on the cliffs above the village.
It is believed that there were once as many as 3,000 castles dotting the Scottish countryside. That's nearly one castle for every 100 square miles.
The most famous and most important castle in Scotland in undoubtedly the Edinburgh Castle. It is a sprawling complex that sits atop an extinct volcano at the center of the city. It houses the Crown Jewels, the Stone of Destiny, and Mons Meg, a medieval bombard or giant cannon.
Another famous castle is Balmoral Castle. The castle is still in use as a private vacation home for the Royal Family. When it is not in use visitors can wander the grounds and exquisite gardens, as well as view special exhibits in the main ballroom.
For a look at the history of castles in Scotland, there is nowhere better than Stirling Castle. The castle has been fully restored to its Renaissance glory. It was a favorite home of the Stewart kings and queens and functions today as a living museum, complete with costumed courtiers, bodyguards, and servants.
The Best Way to Experience Scotland on Your Scottish Golf Tour
There are many beautifully engineered and meticulously manicured golf courses in Scotland. With breathtaking views and historic courses, a golfing trip to Scotland with Hidden Links is an experience that will last a lifetime. Whether you go once as a grand trip or visit several times for an amazing holiday, you will be astounded not just by the golfing, but by the luxury and ease of a Hidden Links tour.
On a Hidden Links tour, the only thing you have to worry about it getting to the airport in time for your flight. From the moment you land in picturesque Scotland all of your needs will be taken care off. We are dedicated to making your trip exceptional all around. You can feel confident that your travel times will click, your logistics will be well planned out, and all of your arrangements will be in order. We will make sure that you get to experience the most memorable courses, stay in just the right places, and experience all Scotland has to offer in your time "off" the course. You will experience the pubs, restaurants, and sightseeing that round out your perfect golfing tour.
Our Dedication to You
We are dedicated to you and your experience. With over 50 years of combined experience in the business of golf, our top management are both experts and lovers of golf. They are locals to Scotland and Ireland with extensive golf history. Our company president was born and raised near St. Andrews in Scotland. Our managing director is from the Kingdom of Kerry in Ireland. He even represented Ireland in international golf competition! Our founder and CEO has played nearly every course on all of our varied tours around the world.
With such personal knowledge and passion, Hidden Links is dedicated to creating the most outstanding golfing experience imaginable for our thousands of satisfied customers. If you are ready for the Scotland golf tour of a lifetime, you can visit our unique Tour Fitting survey. You will answer a series of questions that will help us plan your perfect trip, uniquely suited to you! So go ahead and start planning your trip today.