Thank you for participating in the Hidden Links® "Pot of GoldTM" Sweepstakes!
Click here to start planning your trip to Ireland, Scotland, or anywhere the Golf Tour of Your ImaginationTM takes you!
Thank you for your entry! If you are thinking about planning a trip outwith our sweepstakes offer, please click here to submit our exclusive "Tour FittingSM" trip planning form! Tour FittingSM, unique and original to Hidden Links®, asks a series of questions to help determine what kind of tour will best fit your group, giving both us and our clients a better knowledge and understanding of what you want in your tour.
Simply submit your answers and we will reply with a customized tour proposal for you to review. We promise, no sales pressure! Just good information!
Thanks again for your consideration!


INTERESTED IN ATTENDING THE 150TH OPEN AT ST. ANDREWS IN 2021?
Stay within short walking distance of The Old Course, walk to and from The Open!  Play Carnoustie, Kingsbarns, and more!  7 nights and 4 rounds, plus tickets to The Open and transportation, from just $4695.00 per person!  Be there for golf's most important anniversary event!
Click here to request more information!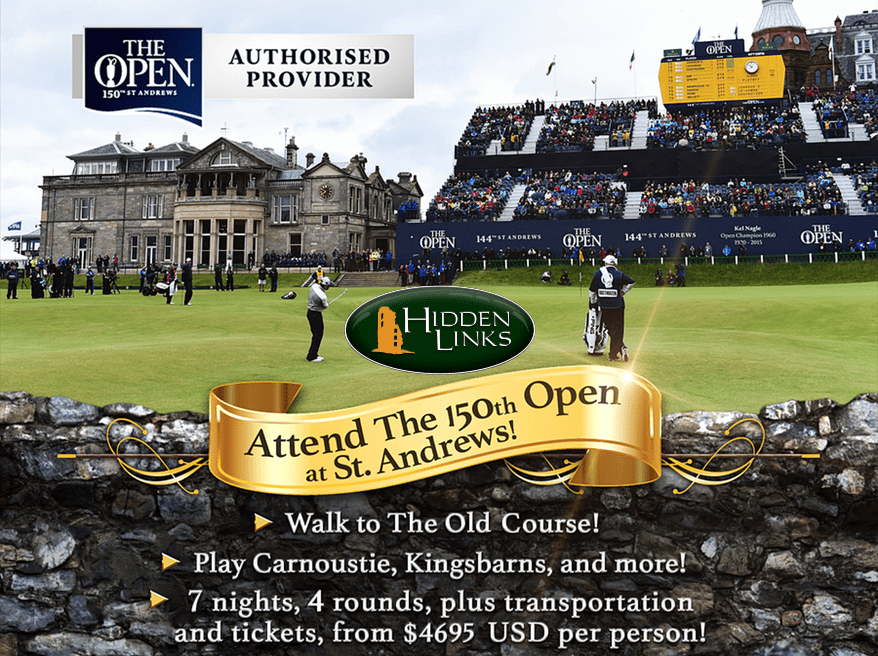 Sample Tours
"You handled everything we threw at you, with such a cheerful and gracious attitude that won't soon be forgotten."
Read Testimonials